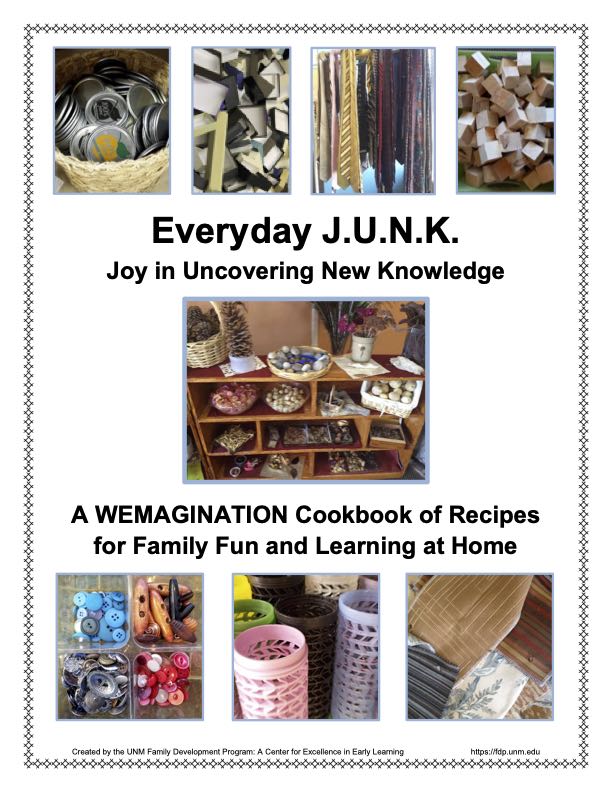 Everyday JUNK Recipes
The Family Development Program has created a special cookbook of fun, learning activities for families. Everyday JUNK celebrates the Joy of Uncovering New Knowledge through Play which is how young children learn. It is a cookbook of simple activities designed to encourage discovery, investigation and sheer delight – all qualities that fuel young children's love of learning and determined efforts to make sense of their world.
Everyday JUNK guides parents and caregivers to use common, everyday "stuff" found in homes as great learning materials. The Resource List will get you started with ideas of what young children love best. You can add your own "stuff" as you figure out lots of creative ways to adapt our suggestions.
The Family Development Program's Everyday JUNK (Joy in Uncovering New Knowledge): A Wemagination Cookbook of Recipes for Family Fun and Learning at Home is offered in both Spanish and English. There are lots of recipes for you to explore and enjoy. Keep checking back: we'll be adding more!
Have fun!!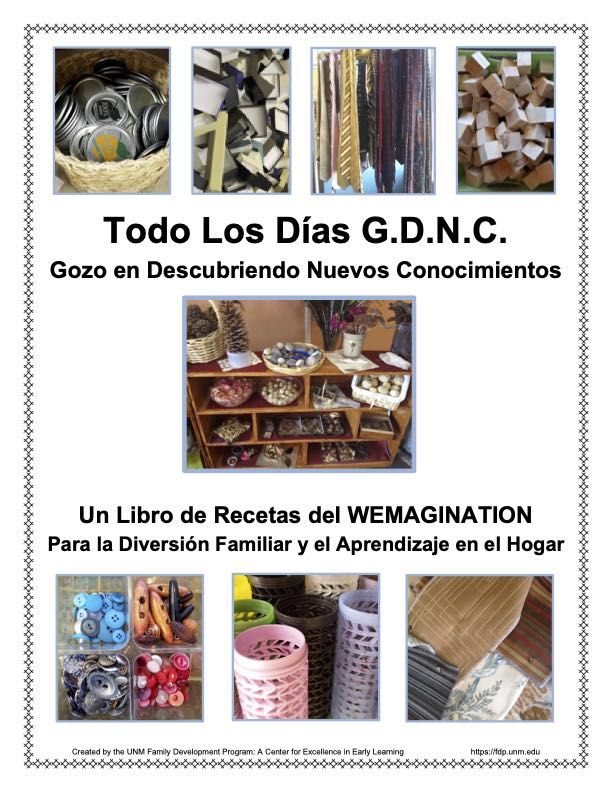 Recetas Diarias de GDNC
El Programa de Desarrollo Familiar ha creado un libro especial de recetas de actividades divertidas y de aprendizaje para las familias. GDNC Diario celebra el Gozo en Descubriendo Nuevos Conocimientos a través del juego, que es la forma en que los niños pequeños aprenden. Es un libro de recetas de actividades sencillas diseñadas para fomentar el descubrimiento, la investigación y el deleite – todas las cualidades que alimentan el amor de los niños pequeños por medio del aprendizaje y los esfuerzos decididos para dar sentido a su mundo.
GDNC Diario guía a los padres y cuidadores a usar "cosas" comunes y cotidianas que se encuentran en los hogares como materiales de gran aprendizaje. La lista de recursos le ayudará a comenzar con ideas que a los niños pequeños les deleita. Puede añadir sus propias "cosas" a medida que descubra muchas formas creativas de adaptar nuestras sugerencias.
El GDNC Diario del Programa de Desarrollo Familiar, Gozo en Descubriendo Nuevos Conocimientos: Un Libro del Wemagination de Recetas para la Diversión Familiar y Aprendizaje en el Hogar se ofrece tanto en español como en inglés. Hay muchas recetas para que usted explore y disfrute. Continúe visitando de nuevo: ¡vamos a añadir más!
¡¡Que se divierta!!
---
UNM did a special story to announce our new Everyday J.U.N.K. initiative too: 
https://news.unm.edu/news/unm-s-family-development-program-cooks-up-recipes-for-children
Here's the TV spot NMPBS made to promote FDP's Recipes along with their flyer about all the great children's shows families can watch with their children.
---